Find the Best Plagiarism Detector for College Students
There was a time when detecting plagiarism used to take many hours, days or even months. But now almost everything is on the internet, and plagiarism checker programs have significantly solved the problem. Especially our free plagiarism detector for students has made their task of writing high-quality essays and research papers easy.
There was no program or website prior to the internet, so it was very easy for people to copy other's work and remain undetected. But that practice is almost ended or is considerably under control since the availability of plagiarism detecting programs.
Use our plagiarism detection tool and get the most accurate results!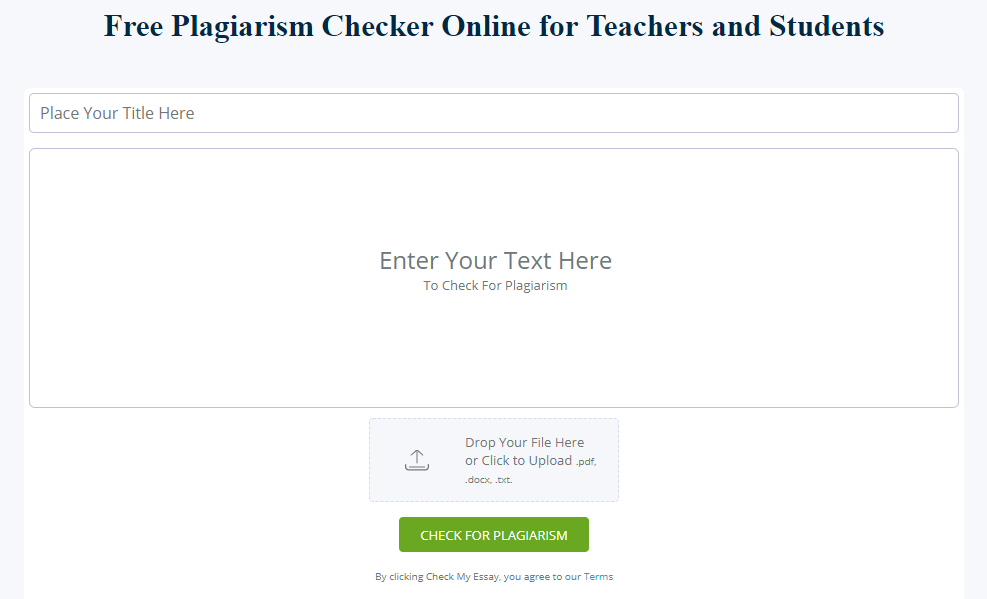 What is plagiarism?
There are almost hundreds or thousands of pieces of content for any topic online. When you search a phrase or a line using a search engine, you get a long list of results. It means when you write something and have not used an essay plagiarism detector, there are sufficient chances that it is already available online.
Unless you have done a scientific research or pondered over something and written the outcome, there will be high chances that your content is available somewhere online. This means your content is duplicate and is considered as plagiarized.
There are many websites providing plagiarism detector free online and we are one of the best of them. We provide free plagiarism detection as well as the advanced level paid version of the service. They are discussed below.
Official plagiarism detector
To help students and other writers write plagiarism-free content, we have a plagiarism detector on our website online. The website is device responsive, so you can use it easily, even from your mobile or tablet. It is available on our website 24/7 and you can get your content checked anytime.
How exactly does a plagiarism detector work?
Search engines index web pages and when you search something, they find and show you millions of results in a few milliseconds. The same method is used for our program to turn it in plagiarism detector.
Our plagiarism detector works by using an algorithm that extracts the texts from your document and compares them with billions of already indexed web pages as well as papers saved in the academic databases.
At the end of the scan, the program will display the results and will indicate which lines are plagiarized if any.
Ways to avoid plagiarism using our program
If you are supposed to write a research paper, it is possible that you end up writing something that is already written before. This can be avoided if you use an efficient program like our free plagiarism detector for research papers.
Having quality in whatever you write is possible if you truly want to do so. There are certain ways you can follow to make your content 100% plagiarism free. They are as below.
Rewrite the content
If the information you intend to convey is already there, you can make yours unique by writing it in your own words and style. Remember that there are thousands of pages written on the same topics and subjects, and yet most of them are seen as unique by the search engines.
Making your content unique that pass the plagiarism test is possible by paraphrasing the information in your own words. It will pass the scan when you are using any plagiarism detector free online.
Avoid quotes as much as possible
This is very important, especially when your content is not covering any interview or the quotes from other people. However, even if it's so, you can paraphrase them in your own words ensuring the message or meaning remains same. Knowing how to use a quote and cite it properly in your paper will help you avoid detection as plagiarized.
Reference and credit other's work
If you have to use some other's work in your paper, you should include a list of references and link them with each citation in the content. This is the way to show readers that you have used an information from other source and they can read further by going to the reference list.
Here is an advanced plagiarism detector
Though free programs like work very well in finding the plagiarism, they give you a very limited report and tips on your content. Our website is providing you with the same high-level service for no fee.
Online programs like Grammarly plagiarism detector require you to buy a monthly, quarterly or annual plans. But we don't require you to pay anything or you don't even have to buy any package to use our free plagiarism checking software.
While you will find the free report very useful, you will not be able to see a full and detailed report. You can see it when you choose to use our paid advanced level plagiarism detector program and you will get a complete report. You get the best tips that will help you make your writings 100% unique that can pass any plagiarism test.
Though we have the best plagiarism detector free for students, we recommend using our premium advanced software for the best tips and excellent results.
You may be worried about privacy when you use a paid account on our website. But we assure you that nobody will be able to know that you have used our service unless you speak about it. We never store or publish your content anywhere. With an excellent algorithm, best tips and 100% privacy makes our plagiarism checker the best plagiarism detector available online.