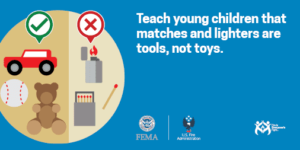 The U.S. Fire Administration (USFA) reviews and collects resources for you to use in your public outreach activities to keep children safe from fire. Explore these materials to learn more about discussing fire safety with parents, teachers and other caregivers.
Prevention and safety messages to share
Make an escape plan
It is important to have a plan when there are children in your home. Children sometimes need help getting out of the house. They may not know how to escape or what to do unless an adult shows them.

Have a plan for young children who cannot get outside by themselves. You will need to wake babies and very young children and help them get out. In your plan, talk about who will help each child get out safely.
It is important to find two ways out of every room in your home, in case one exit is blocked or dangerous to use.
Choose a meeting place outside your home. Children should know what to do when they hear a smoke alarm and there is no adult around. Help them practice going to the outside meeting place. Teach them to never go back inside a building that is on fire.
Keep children safe from fire and burns
Some children are curious about fire. There are simple steps you can take to keep you and the people you love safer from fire and burns.

Keep children 3 feet away from anything that can get hot. Space heaters and stove-tops can cause terrible burns. Keep children at least 3 feet away from stoves, heaters or anything that gets hot.
Keep smoking materials locked up in a high place. Never leave cigarette lighters or matches where children can reach them.
Never play with lighters or matches when you are with your children. Children may try to do the same things they see you do.
Outreach materials
Door hangers
How to print after download
These hangers are easy to print and assemble on ready-made perforated door hanger templates that you can buy at your local or online office supply store. We recommend buying templates with the following specifications:

90 lb. stock
2-up on 8.5″ x 11″ sheet
1.25″ perforated hole (left in)
Microperforated between door hangers
Compatible with copiers, laser, inkjet and offset presses
Outreach materials from other organizations
USFA recommends the following organizations as trusted and reliable sources for free outreach materials you can use to help increase awareness about fire safety for children in your community.
National Fire Protection Association. Community tool kits, education programs and teaching strategies to help communities keep kids safe from fire.
The National Fire Protection Association helps to reduce fire loss through consensus codes and standards, research, training and education.
Safe Kids Worldwide. Videos, safety tips and fact sheets help prevent injuries to children caused by fire, burns and scalds, and fireworks.
Safe Kids Worldwide is a global organization dedicated to preventing injuries in children.
Youth Firesetting Information Repository and Evaluation System (YFIRES). Resources for caregivers of youth involved in firesetting behavior.
YFIRES is a data collection project initiated by the International Association of Fire Fighters.