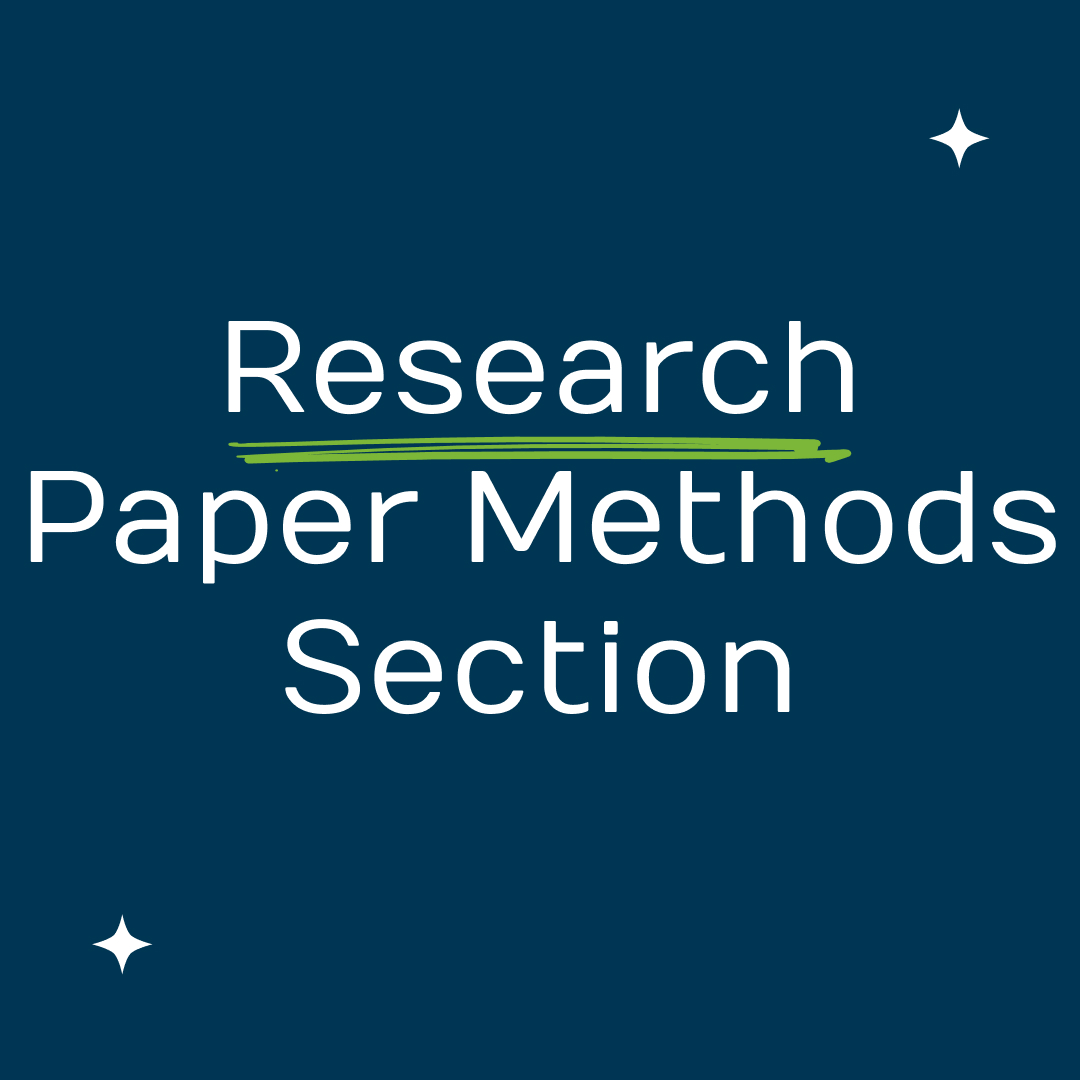 When asked to develop a Methods section for your research paper, it's only natural to feel like you need to know how to start and what to include. Also known as the Materials and Methods or Research Design part, this is precisely where you have to talk about your data collection process and the list of actions you have taken for research. This guide aims to help you achieve clarity and follow the checklist to ensure everything has been followed! Learning how to write a methods section of a research paper, you will see how to describe your research design and what key components must be included.
Purpose of the Methods section
Most college students need to learn how to start with your Methods section because reading through the definitions does not help. The purpose here is to show the types of tools used and measures taken to collect and process (analysis, comparison, evaluation) specific data for your chosen methodology. In simpler terms, it would stand for experiments you have taken, various surveys, and statistical data. Depending on your structure, you may include appendix sections or elements not part of your original research assignment if it's within formatting rules.
The structure and formatting of the Methods section of a research paper will always depend on the type of your research. If we are dealing with a short research report, your Methods section will have to provide a basic description of what type of work has been done. The tricky part is that you must explain what objectives have been followed and discuss the measures precisely and clearly. Remember that no matter your research, the most critical aspect is allowing your target audience to replicate the study without specific challenges in their methodology. Keep your data and notes realistic and include only relevant bits of information.
What key components must be included in the Methods section?
The most popular question among college students related to a Methods section is about the content or what to include in a Methods section. Let's start with the basic elements that should be present:

Research design. This is the most important section to help your audience see the methods used. Make sure to structure your research methodology correctly and follow the rules of the scientific field. Depending on your work type, the research design of a methods section should represent an outline with the basic introduction, set objectives, a lab/field environment, and other related elements.
Participants. When dealing with a sample group or a case study, you must discuss the research participants. Always narrow things down to why a specific group of participants have been chosen and talk about how it will be helpful to stay objective and unbiased.
Equipment. This part describes the set of tools that have been used. Writing a methods section can include software, hardware, voice recorders, chemical equipment, special labs, and more.
Materials. Describe what materials have been used for your studies. Talk about the studies and procedures used based on the available data.
Variables. Talk about independent and dependent variables. The independent variables are related to those elements of your research that can be changed, like the amount of water or the use of certain colors to replicate a process. As for dependent variables, these are those affected by specific changes. In other words, variables in a methods section can change during the process of studies, like the experiment outcome or exceptions in the sample group.
Participant behavior. This is where you talk about what has been experienced by the participants (if relevant). A methods section example may include a description of actions taken, processes experienced, and the environment used to conduct the research.
How to describe your research design and procedures?
Before we continue with the guide, remember that describing your research design and procedures must be done in the past tense. If you cannot narrow things down, consult your academic advisor and ask questions.
Research design stands for the overall strategy you worked with during your research. The key is to integrate all the components of your study like an outline by following a chosen logic. You must guarantee that your methods are suitable to address your research issue. You have to create a blueprint for all your methods and provide a clear analysis of relevant data. Here are the steps you should take:

Reflect on your hypothesis. Talk about variables or aspects you should research. This is a procedure section of a research paper where you describe the type of information you must collect as you work on your main arguments. Narrow down the scope of data that has to be evaluated.
Define your research approach. In most cases, it can be either qualitative or quantitative. While you can choose a mixture of both for your paper, focusing on one to clarify a relevant section is recommended.
Choose your research design type. If you are dealing with quantitative research, it's possible to use experimental, quasi-experimental, correlational, or descriptive design methods. Suppose you are choosing a qualitative design methodology. In that case, you may approach ethnography (a method based on cultural immersion, inside research), phenomenology (research based on the perspective of an individual, an intuitive analytical variable), or a grounded method (social-based research).
Define your research sampling method. The risk here is to generate excessive data, making it extremely challenging to see things to include and avoid. You can choose a probabilistic sampling method or a deterministic sampling approach, also known as non-random selection. Certain methods can fit better depending on the materials section of the research paper. If you still choose a non-random design, the only challenge is that the latter sampling method is more biased.
Evaluate the best data collection method. Start your Methodology section by marking the difference between your primary (surveys, interviews) and secondary data (references that have already been published) sources.
Choose an approach to data analysis. You can alternate between qualitative and quantitative data analysis methods section approaches.
Step-by-step guide on how to compose your Methods section
Step 1: Focus on two main purposes of your Methods section. You should help your target audience understand your research project easier and make it possible to replicate all the vital processes.
Step 2: Offer sufficient information to make replication unbiased and complete. While you may have your research project ready for publishing, providing overly detailed information is only sometimes necessary. Always check things twice to learn the requirements. Most importantly, keep your research transparent, provide a clear methodology, and keep every step easy to replicate.
Step 3: To make things easier, imagine you are an individual in your target audience. Think about how you would replicate your study and what scientific paper methods you would find accessible. Ask yourself about what information you would require. Take notes and create 2-3 outlines for additional clarity.
Step 4: Consider adding visual aid elements. It may include relevant flow charts, mind maps, checklists, or statistical data for your methodology. It will help your readers interpret the study and avoid unnecessary steps.
Step 5: Always adhere to strict ethical standards and scientific guidelines. Even though the "Ethical Guidelines" section will be presented in another research paper part, you must show the main arguments and thesis concerning ethical rules. It will show that you are using strict standards and following the rules related to your discipline.
Methods section checklist
Before you submit your research paper or a separate Methods section, make sure to follow this checklist to learn how to write a methodology for a research paper correctly:

Is your logic consistent in every section?
Does your introduction provide sufficient background information?
Does your methodology structure sound clear and follows a chronology of the research?
Do you provide the results of your research in the same format?
Can you replicate your study based on a given methodology?
Do your readers have all the necessary objectives mentioned?
Are the tools used mentioned?
Ensure to avoid providing too many details, especially as you check the background information and provide an introduction methodology for your research project.
If following a journal's rules, check each methods section's header structure, word limitations, and file formatting.
Check the spelling of the tests and the surveys, and remember to include the ethical guidelines part.
Methods section formats and features
The Modern Language Association guide requires the inclusion of the "Patients", "Study Design", and "Statistical Analysis" sections. As for the formatting, the basic MLA rules must be followed with the indent of each new paragraph and the centering of the main headers.
The APA citation style requires including the participants, materials, and procedures as an obligatory part. Remember to state demographic characteristics when working on the participants' aspect. The main heading of the methods section should be written in bold and capitalized. Centering must be used. As for the methodology in research paper subheadings, they should be aligned to the left and done in bold.
Your Methods section must have 1′ margins on all sides, top and bottom. Times New Roman or Times pt. 12 font must be used. The content must be double-spaced unless specified otherwise. The paragraph beginnings must have an indent.
ASA
American Sociological Association format papers must be double-spaced. The first-level heading must be all camps, centered or justified to the left. The second-level heading must be in italics, in upper and lower case, and centered. The obligatory sections include "Patients", "Study Design", and "Statistical Analysis" parts.
One-inch margins must be used with the double-spacing. Times New Roman, 12-point font is recommended. The Methods section must include screening, inclusion, and exclusion methods and the baseline evaluation. The "Study Design" section must talk about location and add the timeline. Statistical data for your methodology section of a research paper must be based on significance levels.
Harvard
This formatting style requires clear specification as to whether you are using a quantitative data collection and analysis or a qualitative data collection method. In either case, specify if you compare or relate by providing an interpretation. This method is suitable for the convergent parallel design. Alternatively, the Harvard citation style recommends using explanatory sequential or exploratory sequential design methods. All the other citation rules go depending on the types of references.
Additional elements to consider
If the Methods section brings you to extreme emotional anxiety and confusion levels, let's imagine our work as a pyramid by focusing on additional considerations. Let's go from the top to bottom, where the top four elements are those additional elements for your Methods part of a research paper section.

Location specifics. This is where the location and research environment can make a major difference for replication purposes.
Limitations of the research. Talk about the limitations and specifics of the tools and methods being used.
Writing style and tone. Remember to write in the past tense and keep the same tone throughout your research paper.
Ethical considerations. Clarify and specify all the ethical guidelines for your institution, a scientific journal methodology, and a field of science.
Data analysis methodology.
Participants and subjects.
Data collection methodology.
Things required to replicate the research.
Addressing the research objectives.
Basic research question.
Once done with every step, always edit and proofread things twice before you submit your research paper!