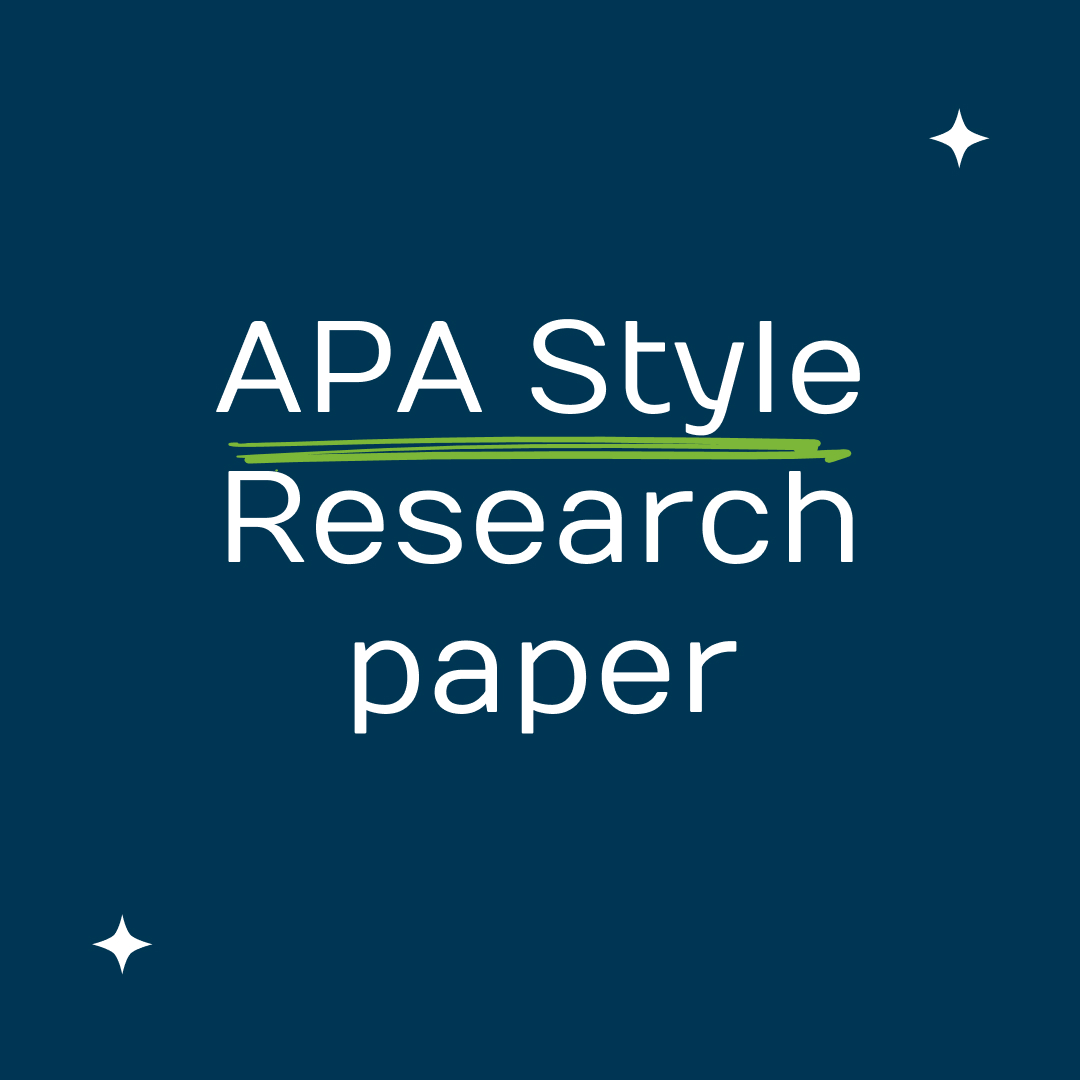 When asked to research a topic, you must use citations and sources supporting your arguments. To do that, college students must choose a recommended citation style. One of the most common options for research papers college learners use is the APA. It stands for American Psychological Association. The latest manual is in its 7th edition, published in October 2019. This guide will help you learn how to write a research paper in APA format by focusing on formatting, main referencing rules, and tips to assist you in making your research assignment stand out!
Understanding APA style: a basic overview
Even though every research paper written is unique and your grading rubric will always tell you more, composing an assignment in APA style format has certain obligatory rules. You must include the title page, an abstract (optional), an introduction, a methodology section, research results, a discussion section, and a references page. Including tables and visual information to support your main arguments is also recommended. Now let's start with the basic rules:

Your title page for the APA format paper always starts on a separate page. The same applies to an abstract section, references page, figures, and tables.
APA style recommends writing research papers in the past tense.
The recommended font is Arial 11 point, Georgia 11 point, or Times New Roman, point 12.
Your written content must be double-spaced.
Apply 1-inch margins on all sides, top and bottom of the page.
Every new line at the start of a paragraph must have an 0.5 inches indent.
Remember that your research grading rubric may require something different based on your college or university rules, yet the rules above are most common for most research papers.
Formatting your APA research paper: margins, fonts, indents, spacing
Most college professors these days will provide you with an APA research paper format example or an empty template that you can download and use for editing and writing purposes. Still, if you do not have a file to work with and need to create a totally new document, follow these rules that have been documented in the APA 7th edition manual:

Start by setting 1-inch margins on the page's top, bottom, and sides in MS Word or any other word processor that can help you create a required layout.
Remember to place one-half-inch indents for the first word in every new paragraph of your APA research paper.
Use accessible fonts in your paper and avoid using colors other than black unless it's allowed by your academic advisor and/or grading rubric.
Recommended fonts can vary from sans serif 11-point Calibri or Arial to serif Times New Roman that is 12-point or Georgia font that is 11-point.
All the sections of your research paper must be double-spaced. It also relates to your title page and the References section.
Your paper content must be aligned to the left side of the page.
The major difference between the research paper in APA, compared to other types of academic assignments is the presence of a running head, a notes page from the author, and an abstract, which is frequently requested.
How to create a title page in APA style?
A title page is an obligatory requirement in APA style format. Learning to write a paper in APA format, it is essential to follow the guidelines provided by your college or university, as some lines may differ. Your academic advisor may provide you with the template, so remember to check that!
In the majority of cases, your title page must include:

Title of your APA research paper;
Names of the author(s);
Affiliation with the department and name of the university;
Course number and complete data to help identify your paper;
Name of the instructor;
Assignment due date;
Page number (the number starts here, so it's page 1!).
Your APA research paper title must be between 10-12 words and clearly reflect your main thesis or argument.
Every line of your title paper should be double-spaced with no extra spaces.
If you do not already have an APA research paper template provided to create a header in APA research paper style, check the "View Header" function in MS Word. Once you are ready to work on the title page, do the following:
Flush things left.
Type: Running head: RUNNING HEAD SHOULD BE ALL CAPITALS.
It is basically a short research paper title of your research paper that appears at the top. Remember that your running head should not exceed 50 characters (including spaces). Only the title page should have the "Running head" part. All the next APA research paper pages should only have your title!
Next, flush right on the same line and add the page number. You can use the toolbox to insert numbers for APA style papers, and it will catch up with things automatically!
Rules of writing an abstract in APA style
Although an abstract part of a research paper is optional, most colleges still ask for it, especially in publishing and academic journals. Here are the basic requirements to follow:

An APA research paper abstract must be labeled and centered. Do not use the bold font.
Your abstract should not be more than 120 words.
Keep it to a single paragraph using the block format.
Do not use indents for your abstract in APA style.
Your research paper abstract must be double-spaced.
Regarding the content of your abstract, writing a paper in APA format, it's recommended to state your topic and do so in one sentence. You must provide a brief overview of your research methods and the results you have obtained and add a brief discussion part.
Based on your type of APA research paper, you may include keywords by placing them one line below your abstract if necessary. Use the Keywords: part in italics with the regular 0.5 inches indent by using keywords in lowercase. The second line of keywords does not require an indent.
Formatting research paper's body text APA style
As a rule, the body part of the research paper in APA format should include an introduction, methodology, results section, discussion of the outcomes, and a short conclusion. Here are basic APA paper guidelines to consider:
Contrary to popular belief, you should not mark it as an "introduction" because this is where your title (no bold font!) usually goes! As you work on your introduction, you must provide a summary and introduce your subject and research objectives well. Provide and evaluate empirical knowledge. Make it clear why you study a certain subject and explain what your main arguments are. Do not make this part of your APA research paper too broad; always narrow things down. Use a hook sentence to inspire your readers from the start with unusual data or statistical information. If it's not absolutely necessary, use up to two citations (references) for your introduction part.
It must be labeled, centered, and bold. You must keep things precise and provide sufficient information for other researchers to replicate your work. As a rule, you should discuss the Participants, Materials, and Procedures section. If you have used specific tools to recreate the problem, mention them as well.
Note: The subsections of the Methods part should be flushed to the left and in bold font!
This part of your APA research paper should be centered and bold. It must talk about how exactly you have approached and analyzed the information. If there were some obstacles, talk about them. You can use several sections for each hypothesis or thesis statement, like in APA Psychology papers or Law research. Remember to include a separate paragraph for descriptive statistical data. Mention the type of analysis that you have used.
This section must be centered and in bold font. The primary purpose of this part is to discuss and interpret what you could obtain as a result of your research work. Place your findings within the available literature and a scientific context. It's like an introduction that you place in reverse! State what your findings are, and talk about what has been surprising and what has been different and unusual. Writing a college APA format paper, always support your findings with references and provide clear examples.
Talk about limitations and mention the theoretical and practical impacts of your study.
Your final paragraph should not introduce new ideas and must summarize your paper with a strong concluding statement. Writing an APA research paper, do not add any ideas for a future study. Explain why your study has been important and how it has contributed to the academic/scientific community. Always end up on a positive note!
Managing References page
This section of your research paper in APA style must follow these rules:

The listing of your citations must be sorted alphabetically. It means they should start with the first author's last name.
Listings without authors should come first and must be sorted alphabetically.
The References in the APA research paper must be double-spaced with no extra spacing required.
Place an indent for every second line of your reference (also known as the hanging indent).
If you want to write an APA style paper and cite a book, a typical book in print reference in APA style will look like this:
Grayson, C. (2019). Manual Therapy Checklist (7th ed.). New York: Syracuse University Press.
Using quotations and paraphrasing in APA format
Quotations and paraphrasing play an essential role in every research paper. Speaking of the APA style format, things are simple enough. If you use paraphrasing or summaries, there is no need to use quotation marks per se. There is no need to include the author's last name and year of publication. It is not necessary to include the page number if you use paraphrasing.
Now, your quotations in APA format scientific paper must be absolutely identical to the original by using only the portion of a quote that reflects the necessity for your research. The citation and a quote must always be referenced with an original author's name. Unlike paraphrasing, you are not turning source material into something spoken in your own words.
How to avoid plagiarism in APA citation style?
The best way to write a research paper in APA format and avoid plagiarism is to provide complete citation data and avoid using sources that do not provide sufficient information. While no student will use plagiarism intentionally, it's still recommended to decrease the number of citations per page of your research and use paraphrasing in your own words. It will help you to address possible similarities and increase the presence of the author's voice. The general rule in the APA 7th edition manual is to use 2-3 citations per page or 250-300 words of APA paper sections using the "an introduction ─ citation ─ analysis" pattern. The trick here is to "dress up" your citation accordingly by adding a healthy balance of your ideas and things you wish to cite.
Creating headings in APA: how to keep things organized?
According to the APA research paper manual, your headings must clearly identify the written content and reflect each relevant section of a paper. The only way to achieve that is to use descriptive and concise language. It will help to make your research paper more well-structured, organized, and accessible.
APA style has five levels of headings for research work. These are:

Level 1 is the highest of the main level for your APA research paper.
Level 2 is a subheading that most students will use to break down Level 1 headings.
Level 3 is a subheading of Level 2.
The same set of rules goes through Level 4 and Level 5.
This is all information you need to manage your APA research paper style citations and research paper formatting.