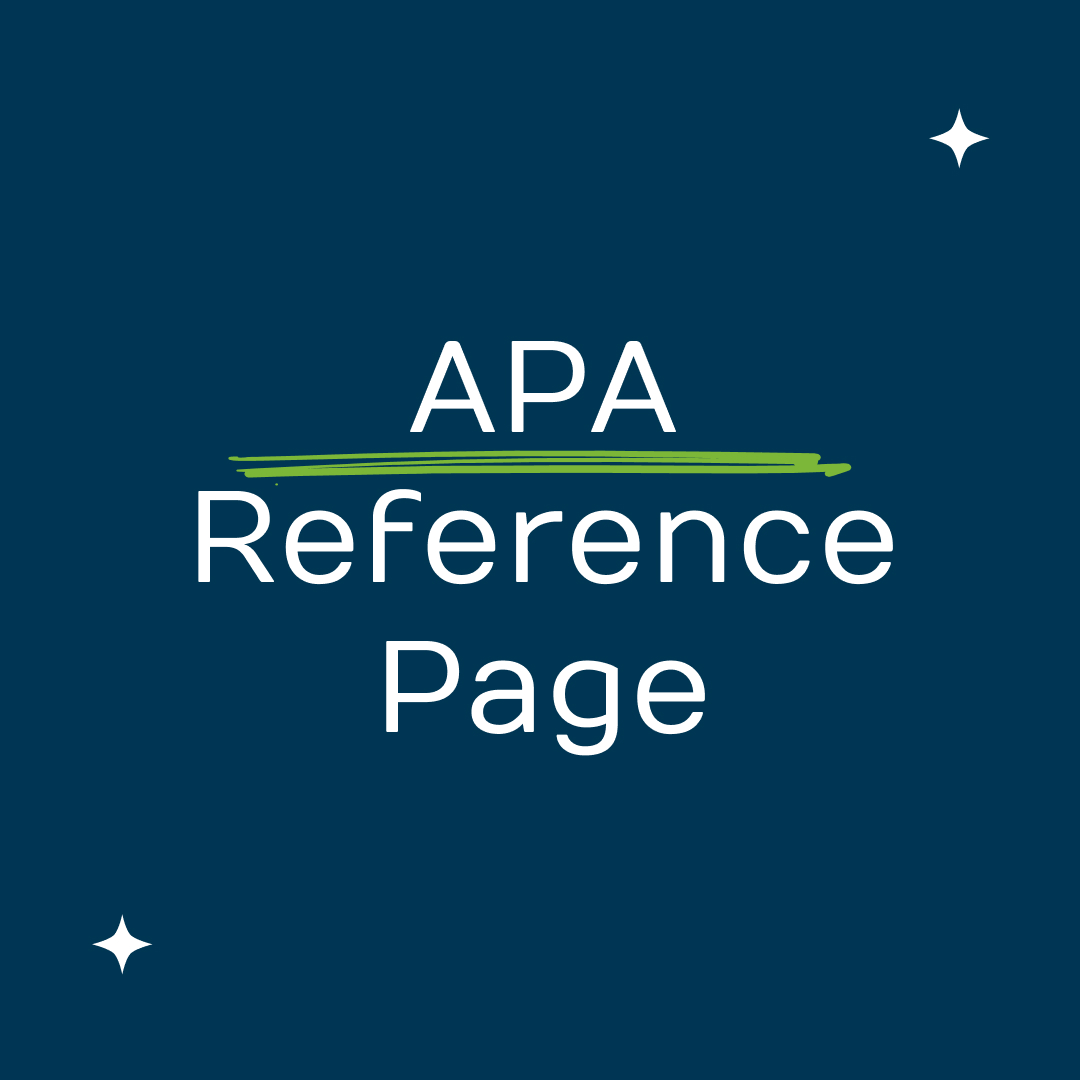 This guide focuses on the main rules and examples explaining how to write an APA reference page for a research paper. We shall focus on the best ways to format your reference page according to the latest APA citation styles. Many important aspects will be reviewed, like the types of sources that must be avoided, in-text citation rules, and the peculiarities of annotated bibliography writing. Making your research paper unique and avoiding plagiarism are important issues for every student today. Keeping it in mind, we explain how to write a reference page in APA in an easy way!
Defining the APA Reference page
Many students that start with a research paper in APA style format often ask about the APA reference page. Although the definition is often explained in simple terms, it's never sufficient. To simplify things, it's a separate page where you keep all of your references cited in your research paper. It must appear on a separate page at the end of your research assignment. The golden rule is to use only those references that are valid and double-checked for being trustworthy. Your references page example entries must offer complete information regarding the author, publication, title name, when it was published, and how it can be accessed. Here are the basic rules that must be followed:

All sides of the reference page must have 1-inch margins.
Every citation entry must be double-spaced.
APA references must be sorted alphabetically.
Use a hanging indent for every second line of the APA reference that you integrate.
Provide a "References" title at the top and center of the page.
Only the first letter is capitalized for titles.
Avoid placing a period at the end of citations with the URL or DOI.
While these are the basic rules on how to write references for a research paper that must be considered, it's crucial to consult your academic advisor. There may be specific changes or types of recommended sources or those that must be avoided due to the research type.
How to format your APA Reference page?
Now, let's proceed with the practical aspect of formatting your APA references page. It will depend on whether you already have the rest of your paper formatted in APA citation style. Since the APA References page is rarely formatted separately, you will already have a document that provides the running head and the page layout indents. Once all has been set up, these seven steps must be taken to make your research accurate:
Scroll down to the new page with the running head and page numbering according to the APA style manual.
Add "References" as the title of the page. It must be bold and centered at the top. It must be one inch down from the top of the page.
Sort your references alphabetically according to the author's last name.
The references with no author should come first and start with the title's name.
Keep your reference entries double-spaced by pasting them and ensuring you use the same formatting when planning to make a reference page during the editing stage.
Indents must be used for every line of your reference after the first line, which is NOT indented.
Check for every in-text citation to guarantee that you have all the entries corresponding with the page numbers and correct initials.
What sources must be omitted from your APA reference page?
Now that we know how to work with our sources and format the Reference page for a research paper, it's high time to check the sources that must be avoided.
Checking through the APA manual makes it clear that your work that has already been published in the past or submitted to your college must not be cited. It means that your own words, a certain opinion, a photograph you have taken, or a graph you have composed does not need a citation. The same is true for those cases when you have to cite personal communications or a specific report in your research paper. In such a case, to create a reference page, remember that a mention appears only in the content of the paper itself and looks this way:

Narrative Citation: J. King (personal communication, May 10, 2023)
Parenthetical Citation: (J. King, personal communication, May 10, 2023)
It must be noted that "J. King" is the name of the instructor who provided the conference lecture that is being cited. This way, it becomes a source that can be recovered and checked. Now, if something that you cite is not possible to recover, discuss the problem with your instructor to determine whether a source must be cited in the first place.
References and APA in-text citations
The use of in-text citations for your research paper will always depend on the type of source that you are planning to cite for your APA resource page. While the scope of this guide will not follow with an in-depth explanation, we shall focus on the major differences between a reference citation and information usually provided for an in-text reference. A reference citation is only encountered once at the end of your research paper, while an in-text citation can be met more than twice throughout your paper. Still, every in-text citation you have (except those cases mentioned above!) must be specified at the end of your page with a corresponding entry. While it may sound too challenging, see these two examples of how to do a reference page correctly:
APA in-text citation: 
(Lee, 2009, p. 34)
APA entry for the reference page: 
Lee, J.V. (2009). Philosophy of the Middle Eastern governors and subjective thinking. In
T. Erken & O.J. Soysal (Eds.), The Middle Eastern Studies and Islamic Culture
             (pp. 34-39). Ankara Press.
As you can see, one should only provide the author's last name and year of publication for an in-text citation in APA. If the page number is available, it must be provided as well. Now, the entry for the Reference page contains complete information that must be cited to make the source recoverable.
Different types of source citing in APA with examples
As a rule, the APA style format makes it possible to cite sources like books in print, electronic books, scientific magazines, academic journals, conferences, multimedia sources, and more. A far more important research aspect is knowing how to handle the challenge of authors' citations. Since most college and university students struggle with creating reference pages for research papers, we shall focus on working with the reference page. Now, if you have to provide a citation entry for a single author mentioned on your reference page, it's simple (see our examples above), yet certain rules apply if you have several authors. Here is the basic breakdown and examples:

The spelling rules must be followed for the letter, including hyphenated elements, two-part surnames, and more.
A single space must be added between the initials of the author.
If some groups and organizations are used for the entry, spell them in full without abbreviations unless they are universal, like UN, NASA, or BBC.
Here is how to work with the APA sources page aspect that has a different number of authors:
One Author:
Last Name, Initial(s). (Publication Year). Book Title. Publisher.
Johnson, S. (2019). Arizona State University's research on cyberbullying. ASU Press.
Two and up to Nineteen Authors:
Last Name, A. B., & Author's Last Name, C. D. (Publication Year) Book Title. Publisher.
Young, C., Wilson, R., Zang, K. & Zang R. (2021). Molecular research on Covid-19
        distribution in the United States. Syracuse University Publishing.
20+ Authors in APA:
The research paper referencing rule is to include the first nineteen names of the authors and then add three ellipsis points (…), followed by the final author.
A.A. Banksy, R.I. King, J.R. Larson, … Williams, N.R.
Sources with no Author:
If no author has been specified, APA style recommends using the title instead as you format your reference page. As you work on your APA reference page, such entries must be sorted alphabetically and come before those sources that provide the last names of the author(s).
APA Annotated Bibliography rules
Dealing with an Annotated Bibliography page for a research paper in APA format is frequent. As a rule, it should be formatted like the rest of your APA paper with the running head and the page number. You must also alphabetize APA references or sort them based on another dependable specified. The only difference is that you should have the words "Annotated Bibliography" centered on the top of the page.
The recommended font and size is Times New Roman, point 12. The text must be double-spaced. The rest of the section looks as follows, with the indent for the entire entry (except the reference):
Twain, M. (2020). The Adventures of Tom Sawyer and Huckleberry Finn. Penguin Books Press.
In the Adventures of Tom Sawyer and Huckleberry Finn, the author Mark Twain
focuses on the problems of racial prejudice through the eyes of society. What
makes it different is the use of childish dialogues that reflect the notions and
the vision of the American South. The use of metaphors and comparisons helps
to determine…
APA Reference page example
Without a doubt, it's always better when you may turn to the actual research paper reference format examples. Here are the most common citation types with reference examples like what would be included in a research paper related to the world's scouting movement. Since the different types of sources have been included in the following sheet, see how they have been sorted and formatted.

The first entry is a web page with no author. Notice how the (n.d.) tag has been used for sources without author reference.
The second reference source is the book in print.
The third source included is an entry found in an academic journal.
We have intentionally included three different types of sources to show you how these must be included. If you require more assistance, check related citation types in APA style format. Always consult your grading rubric and an academic advisor if something is unclear. Now, see the APA reference page for a list of sources for
research paper
done for a typical page:
References
Boy Scout oath, law, motto and slogan and the Outdoor Code. Boy Scout Oath, Law and Motto.
(n.d.). http://www.usscouts.org/advance/boyscout/bsoathlaw.asp
Baden-Powell, B.-P. of G., Robert Stephenson Smyth, & Boehmer, E. (2018). Scouting
for boys: A handbook for instruction in good citizenship. Oxford University Press.
Farrell, J. P. (2012). And the boys took it up for themselves: Scouting, learning, and
dialogue across cultures. Education and Global Cultural Dialogue, 49–67.
https://doi.org/10.1057/9781137045591_4