Honest Mysupergeek Review
Students are constantly looking for new ways to succeed academically in the educational scene. Nowadays, there are millions of ways to finish all of your assignments. And one of them is to ask somebody to help you. Luckily for students, many services are already thrilled to help you with your university task. One of them is MySuperGeek!
Mysupergeek.com is a website committed to helping students reach their greatest potential by offering vital homework support. Today, we will take a look at MySuperGeek's performance.
We will examine the inner workings of this distinctive platform in this review, digging into its features, advantages, and significant influence on students' educational experiences.
Website Design & Usability
Score: 5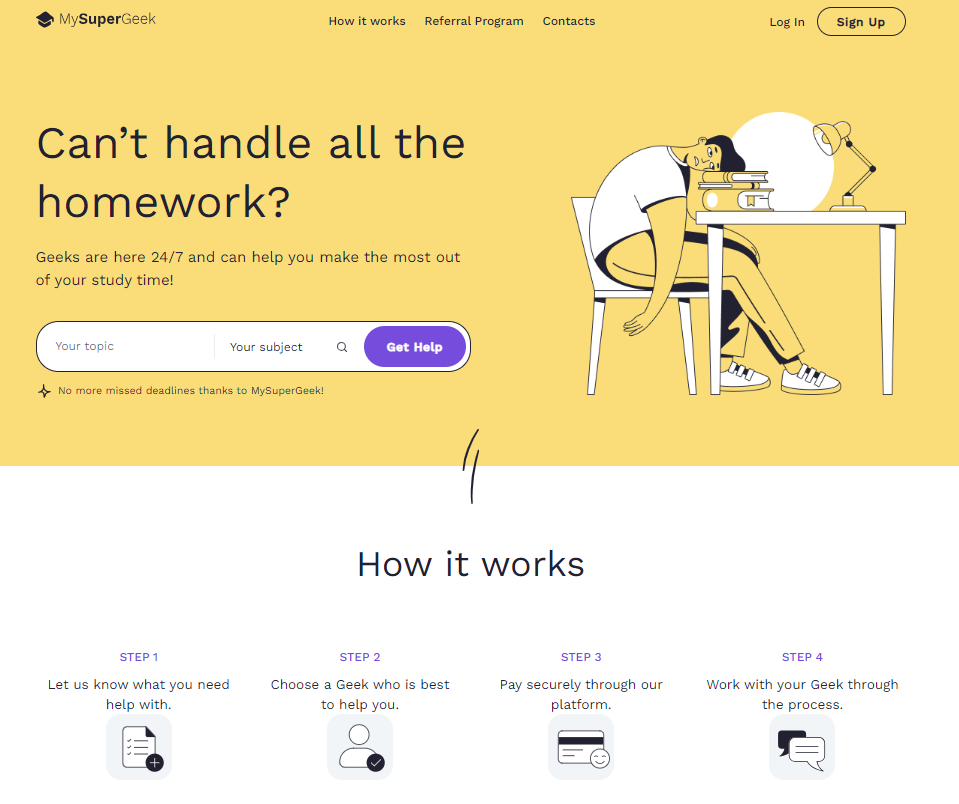 Website design is really important for any online business in the modern world. Based on the website's appearance, customers choose which product or service to buy. 
For such platforms as MySuperGeek, excellent website performance is vital. Luckily, MySuperGeek did a good job in this aspect. Their display is designed in pleasant colors, which attract your attention when needed. Also, it is really easy to navigate because they created a comfortable menu bar.
On the homepage, you immediately see all you need: who they are, how they work, some reviews, prices, and a FAQ tab. Moreover, there is a "Let's chat" button, tapping which you can contact the support team, who will answer all your questions.
We cannot but mention user engagement through bright buttons and cool "drawings" on the website. Overall, MySuperGeek's website is pleasant to the eye and easy to use.
Features of Mysupergeek 
Score: 5 
MySuperGeek features different things that ease your experience working with them. For instance:
User-friendly website.

Loads of subjects are covered.

Homework Expert Assistance.

Interactive Features (chat with the support team).

Affordable Pricing.

Accessibility.

Mobile Responsiveness.

Customer Support.

Success Stories/Testimonials.
About some of them, we will talk further, but overall, MySuperGeek has a wide range of features.
Content Quality
Score: 4
Content quality is of paramount importance for an assignment help service. The quality of the content directly impacts the effectiveness of the service and the educational outcomes of the students it assists. High-quality content ensures that students receive accurate and well-researched information. This, in turn, helps them achieve better grades and excel in their academic pursuits.
The content MySuperGeek produces includes finished assignments for students. It is hard to check all of them, but based on positive feedback from students, they do a really good job.
MySuperGeek employs only subject-matter specialists, so they may assist students in completing their work more effectively or on schedule. Professionals demonstrate to the students how to complete various assignments to increase their comprehension of the material!
Mysupergeek Reviews
Score: 4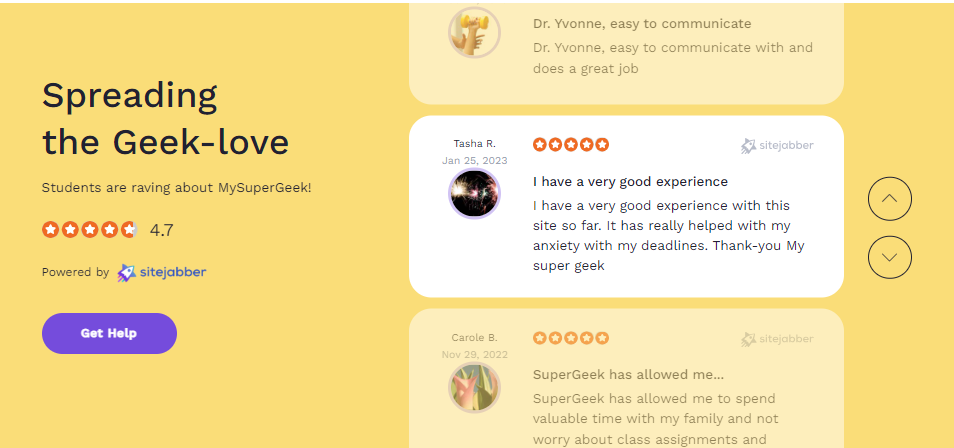 On the "Homepage", we can see reviews of MySuperGeek from their customers. We cannot deny that user experience is one of the most important ways to understand the quality of somebody's work.
Obviously, we see only positive feedback. Excited students tell us how easy their lives have become after using MySuperGeek. The most frequently cited positive MySuperGeek reviewer comments are "easy process" and "lifesaver."
"Working and studying simultaneously can be challenging, but MySuperGeek has made it much easier for me. Now I feel like I can better balance my life, and I never miss a deadline", ─ is only one of the student comments.
However, there are some things that students suggest MySuperGeek can work on. It includes helping with choosing the topic, faster answers from the support team, and a double quality control or plagiarism checker.
There is also positive reviews on Sitejabber.com: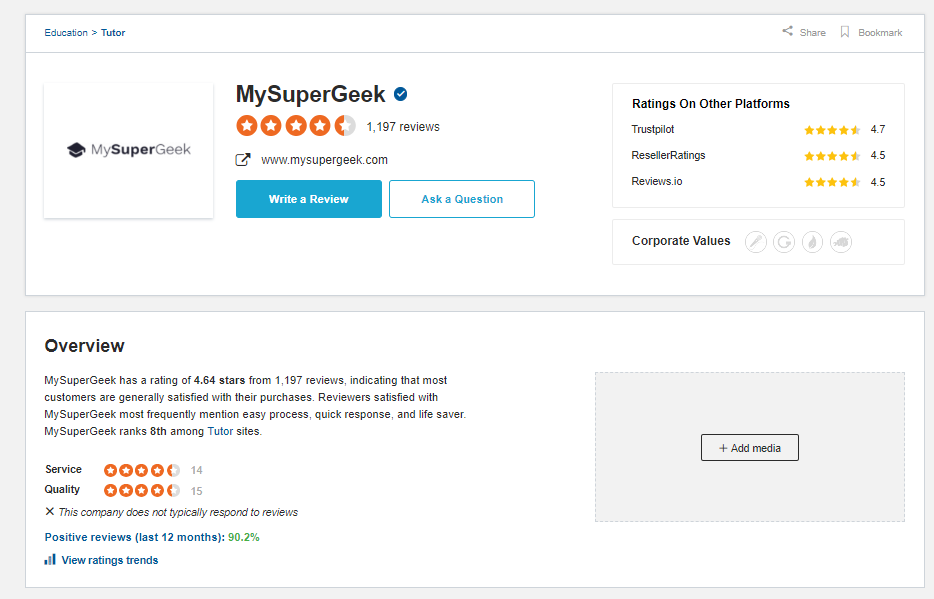 Tutorials 
Score: 5
Different users come to such platforms seeking knowledge or assistance on various subjects. By offering a range of topics, help services can cater to different students' diverse needs and interests. It ensures that their platform remains relevant to a broader demographic.
MySuperGeek tutorials include various subjects: from english and history to computer science and economics. 
That's a big plus for them because more students can gather that diverse help from MySuperGeek!
Mysupergeek Monetization
Score: 5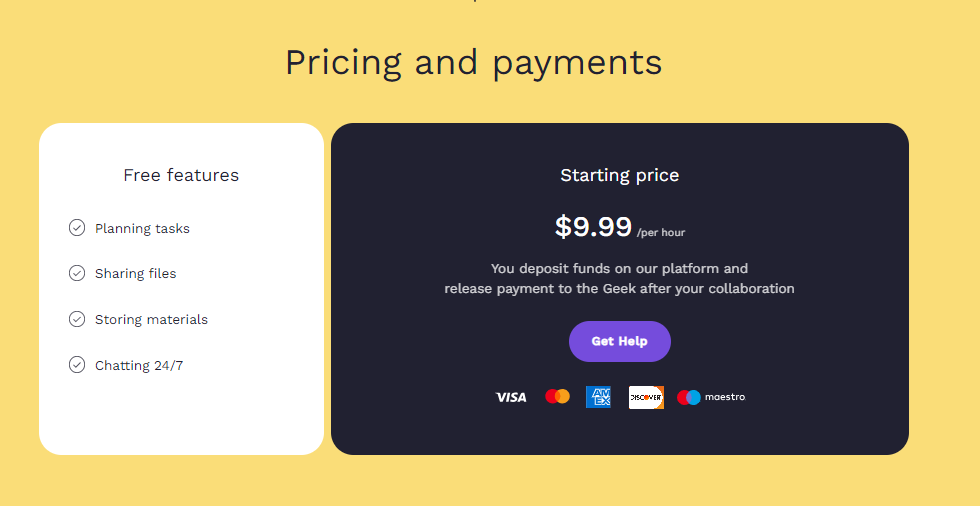 Affordable pricing is a critical factor in the success and accessibility of assignment help services, and its importance cannot be overstated. Not all students can afford expensive academic assistance services. Affordable pricing ensures that a broader range of students can access the support they need to excel academically, regardless of their financial situation.

Moreover, affordable assignment help services can help alleviate some of the financial stress associated with pursuing higher education and promote equity by giving all students an equal opportunity to access academic support. It ensures that success is not determined by one's ability to pay for assistance.
MySuperGeek's prices start at $10. This fact makes this service pretty affordable for all students. Besides, if you share the unique referral link with friends after signing up for your account, you will earn $25.00 once your friends complete a task. More friends means more money, which is really attractive for students!
For payment, MySuperGeek accepts different types of online payment systems: Visa, MasterCard, PayPal, Discover, and AmEx. Payment seems pretty safe and fast.
Is MySuperGeek legit so I can give my money confidently? Yes, you can check it in the "Legal" section on the main website page.
Comparison With Competitors
Score: 4
MySuperGeek is indisputable among the most comfortable services of this kind. They can help with essays, research papers, term papers, and other academic writing assignments. However, they do not indicate helping with plagiarism checkers compared to other websites.
While other services base their charges on criteria such as the type of assignment, word quantity, and deadline, MySuperGeek's prices are fixed and adhere to a similar pricing system. It's crucial to remember that while prices in this sector can be competitive, the caliber of the job can differ. Moreover, MySuperGeek has a referral program through which you can earn money on their platform.
Mysupergeek Data Security
and
Privacy Policy
Score: 4
Besides details about your task, MySuperGeek will collect further information: 
email;

name;

IP address;

public social media profile.
The collection of public social media profiles is rare for such services, so some customers may disagree. However, MySuperGeek promises to use reasonable security measures to prevent the loss, misuse, or unauthorized alteration of your information under their control.
Still, given the inherent risks, MySuperGeek cannot guarantee absolute security, and consequently, they cannot ensure or warrant the security of any information you transmit to them, and you do so at your own risk.
Pros and Cons
Pros:
User-friendly website.

Homework assistance.

Expertise and credentials.

Convenience.

Diverse ubjects.

Learning opportunities.

Low cost.
Cons:
Long answers from the Support team.

Low security of information.

Quality control.
Mysupergeek Review Conclusion
Score: 4,5 
In conclusion, our review on MySuperGeek paints a picture of a valuable and user-friendly resource for students seeking academic assistance. MySuperGeek's commitment to providing high-quality content and a range of helpful features earns it high marks in several key areas.
The user-friendly website design, featuring an intuitive layout and engaging visuals, enhances the overall user experience. The platform's extensive subject coverage and the expertise of its team contribute to its reputation as a valuable academic support service. Additionally, the affordability of MySuperGeek's services ensures that a wide range of students can access the help they need without straining their finances.
Positive reviews from satisfied users underscore the platform's effectiveness in easing the academic journey for students, helping them maintain a better work-life balance, and meeting their assignment deadlines.
Despite minor drawbacks, MySuperGeek remains a promising resource for students seeking assistance with their assignments!