Where To Find a Leading Online Plagiarism Scanner
A plagiarism scanner is a software that essentially checks for plagiarism in any document including journals, articles, research documents and proposals, and even assignments. Plagiarism is a very serious offense with dire consequences and implications. Plagiarism refers to copying another person's work without acknowledging the individual or rather taking another person's work exactly as it appears and presenting it as your own. Keeping in mind the consequences of committing plagiarism, it is important for you to avoid such and be on the safe side by checking all your documents for any issue of plagiarism.
Use our plagiarism checker to get an accurate analysis of your paper!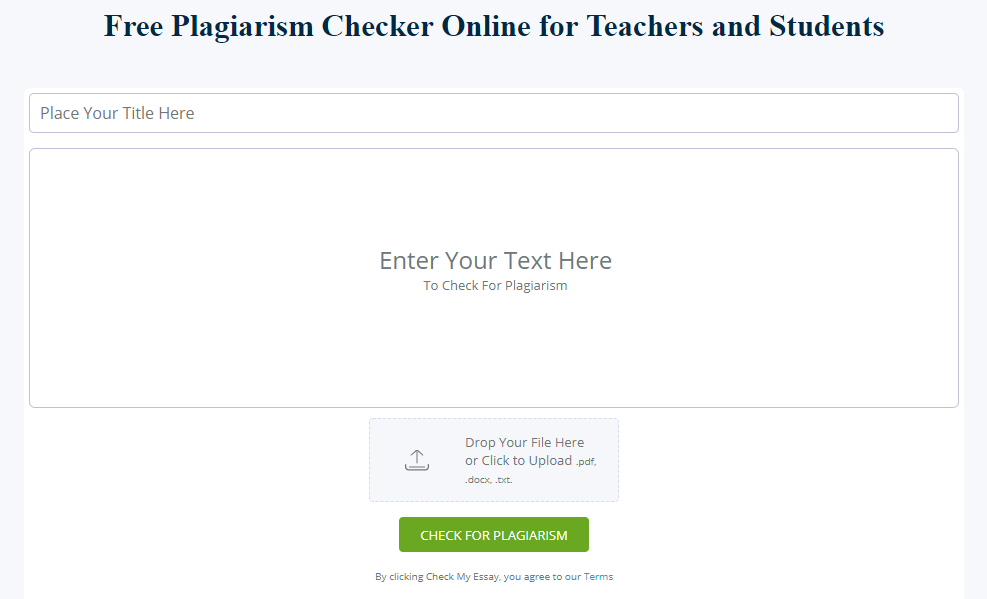 A paper scanner for plagiarism simply compares your work to other available resources on the internet and gives you the percentage of your work that is plagiarized. Usually, most instructors provide the minimum plagiarism your document is allowed to have in which case to provide room for any citations necessary to include in your document. You should be able to minimize plagiarism as much as you can.
Find a Plagiarism Scanner Free Online
Our plagiarism scanner is a free service that ensures that plagiarism in any of your documents is thoroughly checked and you can comfortably hand in your work if the results of the plagiarism check are satisfactory. Remember that the service is free and quality results are still guaranteed.
On the other hand, you may decide to opt for the premium service that also has some added advantages which include:
Quick plagiarism checks, in this case, the orders you place will be worked on at a much faster rate in spite of the document size as compared to using normal accounts while ensuring that the scan is done efficiently.
In-depth analysis of the document that ensures that the very tiny details of the document are highlighted when giving the feedback.
Detailed reports – a premium account will ensure that you get a detailed report of the document scan while ensuring that you get adequate recommendations on corrections that you can make to the paper.
Also, the premium package provides free tutoring programs where you can directly air out your questions and concerns to our experts who will provide informative answers to the queries you raise.
The Best Online Plagiarism Checker Is Here For You
Some of the features of our scanner for plagiarism software that makes it the best software include:
Reliability – we ensure that you get feedback at any point in time at just the click of a button. The paperscanner for plagiarism also provides recommendations and ideas on the changes or corrections that you can make on your document to make it more presentable.
Efficiency – our paper plagiarism checkeris up to date ensuring that even the most recent journals, articles, and publications are among the documents that your paper will be compared with hence no loose ends are left.
Cost effective – our plagiarism scanner provides free plagiarism check for any document hence is a pocket-friendly service since all you need to do is to ensure that you have the document you wish to check for plagiarism and a good internet connection and the rest will be handled by our sophisticated software.
Confidentiality – our scanner for plagiarism is engineered in such a manner that it cannot be traced that you used it to correct your work. Thus, it is safe to say that the scanner provides a high degree of confidentiality with regards to how originality and creativity of the document were maintained and thus, you can rest assured that your secret is safe.
Diversity- our antiplagiarismscanner is capable of checking plagiarism in a wide variety of documents from just assignments to journals, articles, proposals. Most importantly, our software can detect plagiarism for documents written in some other languages including English, French, German, Spanish among others.
Speed – we highly esteem the essence of time, and hence our programmed is fashioned to ensure that you get the results in a matter of minutes depending on the bulk of the paper. In this case, a one-page journal or article will take two to three minutes whereas a thesis paper may take more than ten minutes. However, as mentioned earlier, the premium service takes a much shorter time.
As they all say, it is better to be safe than sorry. Scanning any of your work is very crucial to avoid the consequences therein which may lead to expulsion if you are a student and legal penalties if you are a professional depending on the extent of plagiarism in your work.
We offer the best antiplagiat online service for free and the results are impeccable so go ahead and try our plagiarism scanner now!