Find the High Quality Plagiarism Software for Students
As a student, you are required to work on a number of documents from articles to journals, assignments and even research proposals and thesis. All these documents may require you to go online to search for different publications where you can get answers and content for all these works and this makes you prone to copying someone's work without quoting or acknowledging the person and hence committing plagiarism.
Use our convenient anti-plagiarism program and get accurate results!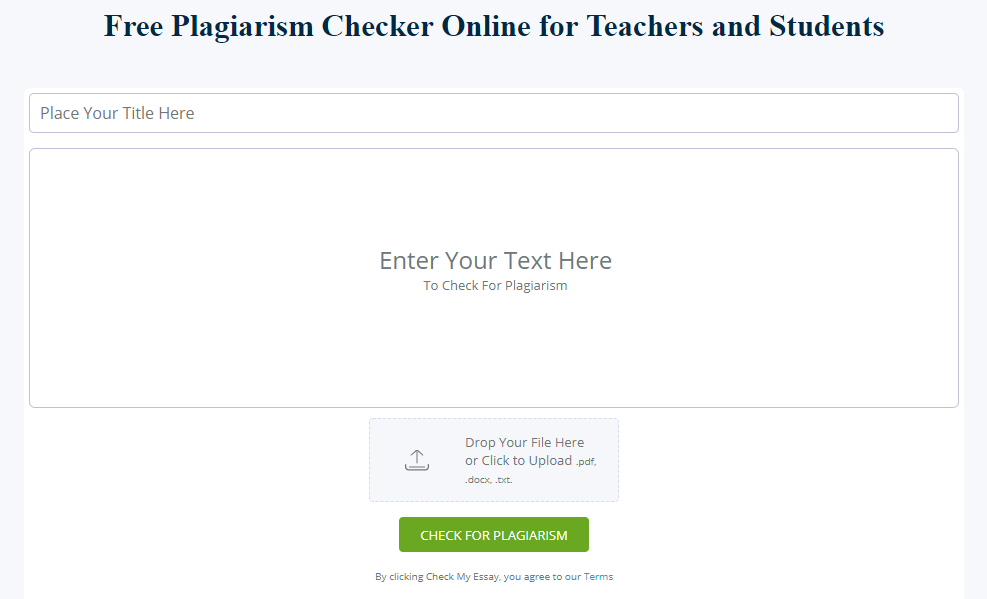 To avoid this, it is important that once you are done with your document, find a good plagiarism scanner which has a reliable plagiarism software in place that will help you detect plagiarism in your work. In some instances, your instructor may give a margin allowance for plagiarism in your work, mostly five to ten percent allowance, but if you can make your document to have zero plagiarism, then the better.
Important for you to note as a student is that the plagiarism checking software is free, the only thing you may be required to do is to sign in, which is not really necessary since the software is available online necessitating you to only copy your work to the site and let the software handle the rest hence very pocket friendly to you.
Of interest also is that the software is engineered such that it provides recommendations and suggestion on corrections that will improve your document.
What is anti-plagiarism software?
The anti-plagiarism software is an online search engine which checks for plagiarism, that is copied or forged, texts in a document.
At a glance, this is how the plagiarism software works; it has a database with a number of original publications already available online and an algorithm which interprets or is able to simply read through the document intended to search for plagiarism. The algorithm reads through your document and compares it with the billions of other documents available in its database.
Some of the features of our anti-plagiarism software include:
Adaptability – our experts ensure that the plagiarism software is up-to date and effectively running at all times giving no room for it to crush disrupting your plagiarism check and most importantly is free from hackers who may steal your work.
Speed – the software is fashioned such that it is able to check for plagiarism in any document in the minimal time possible. Time used is dependent on the bulk of the document with those with less pages taking a few minutes while those with many pages such as thesis taking relatively long for the software to complete the work.
Discreetness – this is a major concern especially to students and professionals with a reputation to maintain such as bloggers. You can rest assured; your secret is safe with us! No one will be able to detect that you used this software.
Cost-effective – our plagiarism software for plagiarism scan has a free and a paid for premium service. The former requires no payment for you to access the software and have your document checked for plagiarism but lacks the features of the latter which include: a thorough analysis of the document where each and every detail is closely paid attention to, analysis reports which provides adequate information and recommendations on some of the changes that you can make to your document to make it more appealing, prompt check for plagiarism with the time taken being almost half the normal plagiarism check time and of interest to students is the online tutoring where you get to interact with our top professionals and have all your concerns sufficiently looked into. All these features if the premium plagiarismsoftware make it more convenient and it is important to note that the services we provide will be worth the money.
Accuracy – our software for plagiarism ensures that the search is done with utmost accuracy in mind to ensure that reliability of the results and recommendations provided is guaranteed.
In addition, our free plagiarism software is engineered to check for plagiarism is a wide variety of documents from journals to thesis papers. It can also check for plagiarism in documents written in a number of languages so all you have to do is to ensure that you select your county well before placing your document in the plagiarismchecker.
After getting the plagiarism check results, it is upon you to decide what you will do to your document. The plagiarism software only detects plagiarized texts in your document and may give suggestions on the corrections you can make but never corrects for you.