Grammarly Review: Writing Tool That's Definitely Worth It
In the era of technology, much of the day-to-day communication happens online. We type messages to friends, write Instagram posts, complete work reports or essays, create profiles, and do a variety of other things via computers or cell phones. Without even realizing it, we constantly create content that influences people and share valuable information. Usually, when the atmosphere is casual, it does not really matter how flawless our writing is. But in other cases, when text is created for a significant purpose, making typos or grammar mistakes could be detrimental to our success.
A standard spell check helps remove typos but it is not good for much else. Grammarly, on the other hand, helps improve written content in general. It is an AI-based service that works as an assistant: it underlines flawed text or a mistake, offering suggestions for improving what you wrote and making your message clear.
Grammarly can be used both as a browser extension and as an app, which makes it pretty easy to start with. Downloading an extension doesn't require any fee or payment information, so if you have never used Grammarly before you can start with this basic option and make sure this is exactly what you need.
As a service that provides writing assistance, Grammarly is available in free and premium version.
Free Version Features
Grammarly is one of those rare services that become irreplaceable once you start using it. As soon as you try it once, you will not be able to imagine your life without it.
There is no need to worry about any typos or misused words as Grammarly will find them for you. Its free version has more options than many paid subscriptions can offer. Here are the features that can be accessed by any person who downloads the free Grammarly extension.

Even English teachers make mistakes, never mind those who struggle with seemingly endless rules and exceptions. Subject and verb agreement issues, mistakes with apostrophes, wrong word usage or vague pronouns — they are common because most people type in a hurry and their hands do not always have time to follow their minds. Grammarly registers such issues and underlines them with a thick red line. When you point at it, you will see the explanation as to why this fragment is flawed.
Accurate punctuation checker

Commas, hyphens, colons, and dashes are a nightmare for many of us. While the free version of Grammarly has its limitations, it still manages to detect the most common punctuation issues, offering tips to correct them. What we love most is that it shows not only where to place commas, but also where to get rid of them (Useful, huh?).

If you spell some words incorrectly, Grammarly will draw your attention to it. Also, AI tries to recognize what word you have likely meant from the context and offers you a replacement.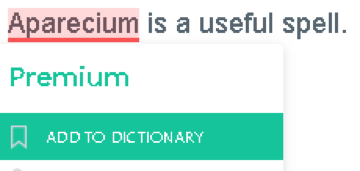 Writing exists in many forms. You could be working on a report where many atypical names are used, with each of them being marked as a mistake. Maybe you are writing Harry Potter fanfiction and Grammarly underlines some of the words related to the Wizarding universe, such as Aparecium, a revealing spell. If so, you have a chance to add them to your dictionary. Just click on the 'add to dictionary' option.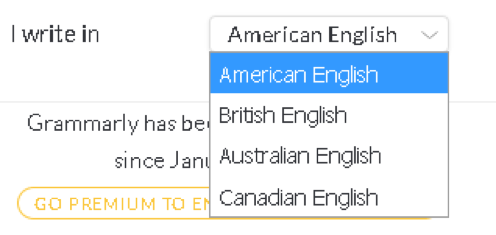 English is spoken in numerous countries and some aspects of it differ depending on location. Grammarly allows you to choose between four variations, such as American, British, Australian, and Canadian English. Click on the icon in your browser or app and select the one you want. Not only you can select your preferred language, but also turn it off on certain websites, and add new words you use often to the dictionary.
Grammarly is very convenient and is always one step ahead. Whether you get an app for Apple and Android products or download the browser extension, you can check the written text even in your Google Docs and Gmail. Sounds amazing.
Learn more about EduBirdie's prices, payment system, and its advantages for students.
Premium Grammarly and More Opportunities
While the premium version has the same interface as the free one, it conducts the linguistic analysis on a much deeper level and has even more functions to enhance your writing. Here are the extra advantages you could acquire.
Developed Explanations of Mistakes
With the Premium version, you'll see more information about the mistakes you make. The explanations are devised in a way to imitate what an actual professor would say, giving you a chance to acquire a more in-depth understanding of a problem.
Tone and Style are Assessed
 It is a unique feature that few other apps offer. If you write an essay and accidentally use informal language, Premium Grammarly will point such instances out. If your writing is too stiff and dry, tips will be offered, too. You could also be a fan of flowery language and overdo it by making some sentences overly long and difficult to read. Grammarly will register all these problems.
Overall Readability is Evaluated
Text readability is a delicate issue. You might not see a problem with what you wrote until someone complains that they find it difficult to read it. Grammarly premium account helps avoid such situations. Density, the length of the sentences (short and long both), and their structure will be taken into account, giving you an opportunity for improvement.
Passive Voice Misuse is Pointed Out
Depending on the type of work you're doing, the passive voice might be a serious hindrance. It makes the text weak and unprofessional, but with a premium account, it won't be a problem. Every time you use passive voice without a solid reason, Grammarly will put up a warning.
Word Choices will be Assessed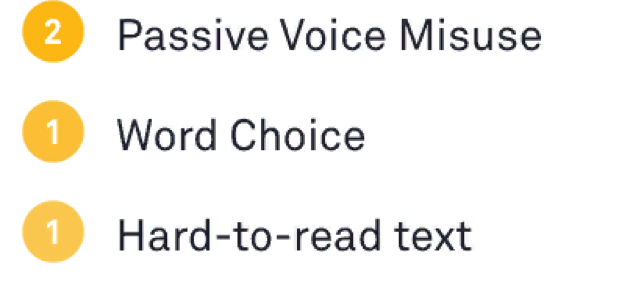 If your vocabulary is poor and you often repeat the same words over and over again, Grammarly will point it out, suggesting ways of making it richer. If one word sounds awkward in the context of a sentence, this will also be marked by Grammarly, with an explanation given. Click on the emphasized area to see it.
Even More Perks: Grammarly Plagiarism Checker
The consequences of plagiarism can be painful, and with how ineffective most free anti-plagiarism systems are, getting Grammarly could supply you with many-sided linguistic protection. The advantages of Grammarly service are in its simple, convenient interface and effective plagiarism check function, which allows you to compare the text with billions of web pages. 
To check any text for plagiarism, simply drag and drop the file or copy and paste the text into the web page. Moreover – Grammarly does not just check the text for plagiarism: the site will help you to check spelling and grammar errors and offer words that are suitable for the context, which helps to improve the quality of the texts. 
How Much Does Grammarly Cost?
In terms of the price, Grammarly is fairly cheap. There are three options for the individual plan you could purchase.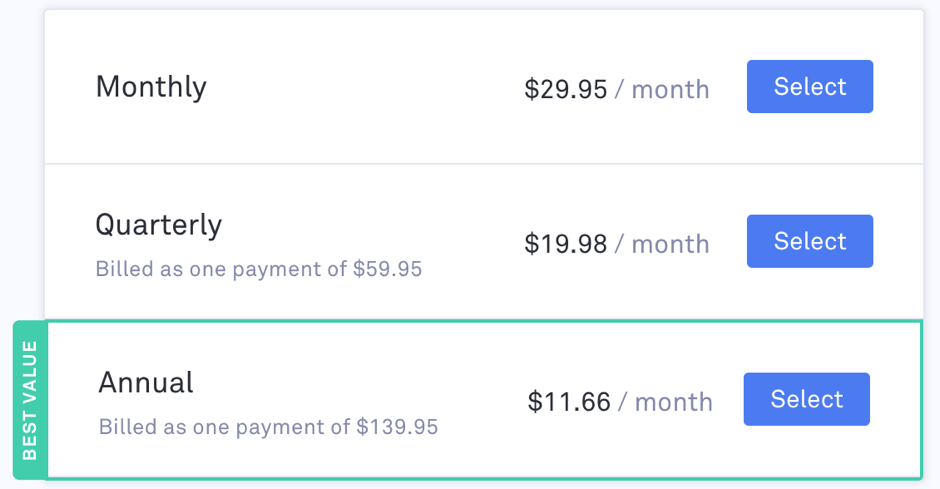 Monthly</strong >

: you pay $29.95 every month. Subscription is renewed automatically unless you decide to terminate the deal via settings. It is a one-click option, so no worries.

Quarterly</strong >

: the price for a month is $19.98, which is more beneficial than what the first option offers. Note that the sum is billed as one payment of $59.95, and after this, you can use Grammarly for 3 months.

Annual

: the sum for one month is just $11.66. Once again, the payment will be taken in one go, equaling the amount of $139.95. During the next 12 months, Grammarly will be your faithful assistant.  
Who Needs Grammarly Most?
The team of A Research Guide came to the conclusion that Grammarly is #1 writing assistant for students who are constantly engaged in composing essays, research papers, dissertations, and other types of written assignments. Doing so much writing at such speed is not easy, and naturally, the slyest mistakes crawl into the text. Grammarly is a valuable helper for young people, regardless of whether they get a free or premium version. It improves academic texts efficiently, and as the survey shows, as many as 89% of students reported finding its assistance helpful. More than that, even professors encourage them to use Grammarly because the difference between checked and unchecked texts is striking. 
If you want to improve your writing, using this service will bring you a considerable amount of benefits. If you would like to save your time and write without re-checking every word of every sentence repeatedly, Grammarly is also a great solution. Summing up all the benefits above, Grammarly gets A+ review and a recommendation to use from A Research Guide team.