Chapter 2. Quick Click to Search Engines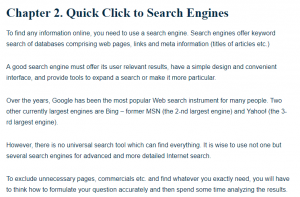 To find any information online, you need to use a search engine. Search engines offer keyword search of databases comprising web pages, links and meta information (titles of articles etc.)
A good search engine must offer its user relevant results, have a simple design and convenient interface, and provide tools to expand a search or make it more particular.
Over the years, Google has been the most popular Web search instrument for many people. Two other currently largest engines are Bing – former MSN (the 2-nd largest engine) and Yahoo! (the 3-rd largest engine). 
However, there is no universal search tool which can find everything. It is wise to use not one but several search engines for advanced and more detailed Internet search.
To exclude unnecessary pages, commercials etc. and find whatever you exactly need, you will have to think how to formulate your question accurately and then spend some time analyzing the results.
Search engines can be general as well as specialized. General engines are the ones like listed above which are commonly known, while specialized engines help finding information on a specific subject. They include Google Scholar (searching for academic papers), Webopedia (online tech and IT dictionary), Pubmed (searching for medical publications), Britannica (searching through Encyclopaedia Britannica) etc. You should choose one or several of them depending on your purpose.
SAFE GOOGLE SEARCH
---
ANSWERS.COM – DICTIONARY, ENCYCLOPEDIA
Power Reference
Online dictionary, thesaurus, encyclopedia and much more…
---
YAHOO! – DIRECTORY
---
ASK.COM
Have a Question? Just type it in and click Ask!





For example:

How do I write a Bibliography?
---
AMAZON.COM – SEARCH PRODUCTS
---
AMAZON.CA – SEARCH PRODUCTS
---
Other Search Engines, Meta Search Engines, and Directories in Alphabetical Order
Denotes major search engine, tool, directory, or reference site.
Amazon.com
Answers.com (Dictionary, Encyclopedia) AOL Search
Ask.com (formerly Ask Jeeves!
Bing
Britannica (Metasearch)
DogPile (Metasearch)
Google Scholar

Google Suggest – Beta
Pubmed (Medical publication search)
Webopedia.com  (Online Tech Dictionary for Students, Educators and IT Professionals)
Yahoo! (Directory)